9 Creative Summer Marketing Campaigns
Say hello to summer! It's that time of year again when everybody is out and about, going to the beach or pool to escape the heat. Since everybody's outside, it's a great time to release all your creative summer marketing campaigns to promote your brand's products.

Get inspired for your own summer campaign with these 9 creative summer marketing ideas:

1. Like two peas in a pod
Is it a hot dog? Is it a raft? Why can't it be both? This fun summer advertisement by Pan Pepin cleverly highlights both the brand's products and fun summer activities. It's undeniable that combining hot dogs and rafting is a very good idea.

2. Fruit Fun
What's better than a cold watermelon slice in the summer? Fruits are a common design element in many summer marketing campaigns. Calgary Farmers' Market launched a series of posters with carved fruits. We gotta say that this kiwi looks great in a bikini.

3. Just a Bite
Wow, did a shark took a bite out of that s…? Calm down, it's only the creative summer advertisement for the promotion of Discovery Channel's Shark Week. They printed a Shark Week advertisement on surfboards and placed them all around popular beaches. It sure scared some people, but they definitely memorised the ad.

4. Human-Sized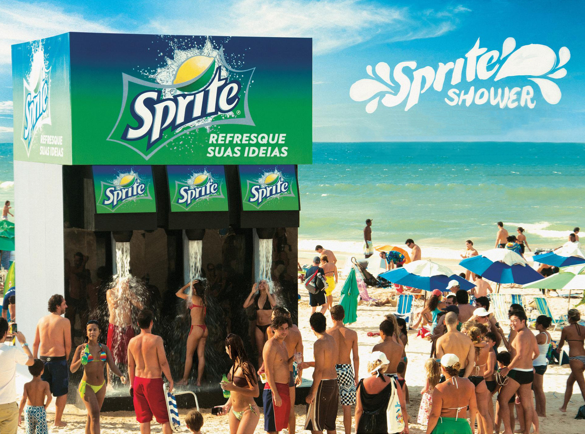 Now that's what we call creative. Sprite really ups the level of summer marketing campaigns with this idea of providing beachgoers in Tel Aviv and Rio De Janeiro with a quick shower in Sprite's human-sized soda dispenser. After they're done showering, Sprite representatives gave them a free bottle of the drink. How can you not be left with a good feeling about the brand when it has satisfied all your needs in the summer?

5. Print-tech
Technology and print go hand in hand. This combination makes for an amazing creative summer marketing idea. Nivea created a magazine print with a simple charging device powered by a small solar panel that beachgoers can use to charge their devices. Not only was this advertisement innovative and creative, but it also reminds people of the benefits one can get from the sun.

6. For Free
Did you ever run for your life after you realised how hot was the sand when you took off your shoes and stepped on it at the beach? Were you ever left without a towel to dry yourself at the beach, because you were laying on yours and it's covered in sand? Soft drink manufacturer Lemon & Paeroa solves all your problems with their beach marketing campaign. They placed custom beach towels all around the city for people to take freely. They also set up custom signs where people can just pop off and take a pair of flip flops. These freebies are sure to get people excited for the summer.

7. Being Shady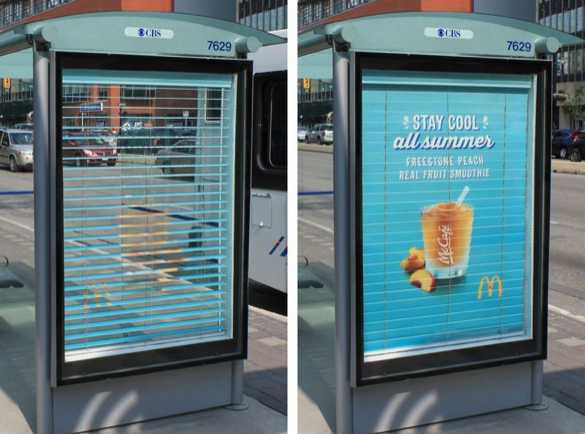 Finding shade to hide away from the hot summer sun is a great feeling in the summer. McDonald's is creating more shadowy places with these unique bus stop billboards in the form of vertical blinds that would close off when the motion sensors sense people under the bus shelter. As the blinds close an ad, which features their summer specials, is visible.

8. Get Misty
Create fun experiences in your summer marketing campaigns that people will always associate with your brand. Take this bus stop displays by Lipton as an example. Lipton used bus stops as cooling stations where a cool mist sprays people when they press a button on the advertising panel. This makes people think "refreshment" whenever they see a bottle of Lipton iced tea.

9. What's in a Name?
You know what's always a good idea? Getting personal with customers. In Coca-Cola's "Share a Coke" campaign, people's names and fun nicknames were printed on the bottle label, replacing the iconic Coca-Cola logo. Playing with the double meaning of the word "share", the campaign became a hit on social media. So take note and integrate share-worthy summer advertisements in your campaign.

The summertime inspires some of the most fun advertisements. We hope you got some inspiration to get more creative with your next campaign.