Top Fonts to Use on Posters
Wait, so after all the time I spent creating incredible visuals, now I have to start searching for creative fonts?! Yes, we know the struggle, selecting the right font for your poster design can be a tricky thing to do. Especially, when there are thousands of typefaces to choose from. Not only do the fonts in your poster design have to be aesthetically pleasing, but they also to be eye-catching, legible, and cohesive with the whole design. To get you out of this hassle, we have compiled a list of creative fonts you can use for your poster.

Here are some of the best fonts for posters you can use in your own designs:
Gilmer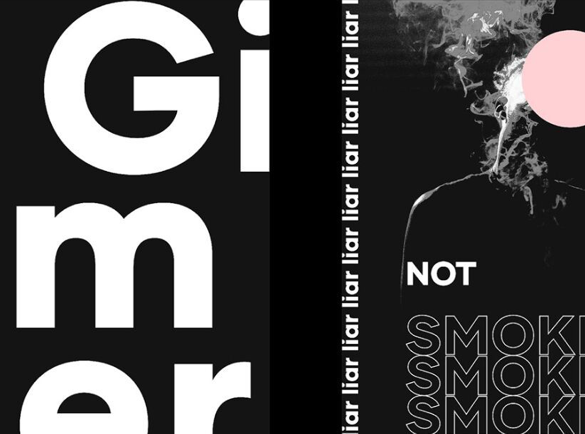 Classification: Geometric Sans Serif

If you ever need a fresh and clean font for your posters, use Gilmer by Piotr Lapa. This geometric sans serif font has that futuristic style that's perfect for posters going for a more modern and trendy look. It could also fit design pieces that are more on the minimalist side.

How to use it?
While Gilmer can make a great font for a poster's body text, it can also be used as a clear and legible header. It is one of the best fonts for designers to use for informative poster designs, flyers, booklets, and other print materials.
Brandon Grotesque

Classification: Sans Serif

Inspired by the sans serif fonts of the 20s and 30s, the font Brandon Grotesque was created by Hannes von Döhren with legibility in mind. Brandon Grotesque has that old school touch but with a more contemporary feel mixed in. Its slightly rounded corners give the font a warm, soft, and friendly touch. However, it still has an air of neutrality and seriousness.

How to use it?
It can be considered one of the best fonts for posters, as it can be used for all types of poster texts such as title header, subtitle, and body text. It'll look amazing on promotional materials for your next event.
League Gothic

Classification: Sans Serif

League Gothic is a sans serif typeface created by Caroline Hadilaksono, Micah Rich, & Tyler Finck for The League of Movable Type. It was meant as a revamp of the font Alternate Gothic #1 created by Morris Fuller in 1903 for the American Type Founders Company.

Though slim and tall, League Gothic has enough weight to make it stand out from other similar fonts such as Bebas Neau and Alegre Sands. It has a very commanding, authoritative, and professional personality, making it the best font for posters, flyers, and other print materials with more serious topics.

How to use it?
League Gothic is a highly readable font, however, due to its boldness, it's not suited for body text of promotional materials, but rather for subtitles and headings. It'll look great next to a brushed or handwritten font with a classy elegant touch. The contrast of the two will result in a unique look.
Aleo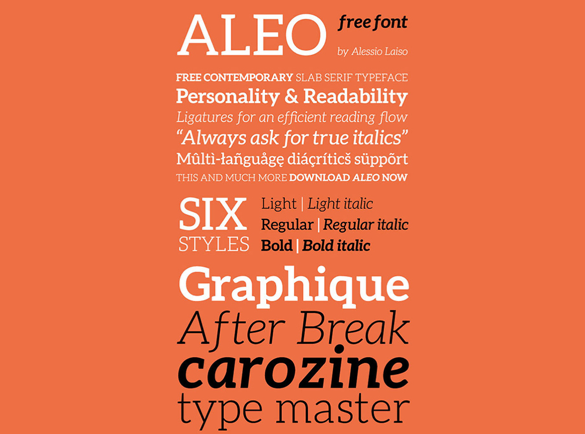 Classification: Slab Serif

Try using the font Aleo created by Alessio Laiso for a more approachable effect for your poster design. It is a slab serif font that has three different font weights, as well as italicised versions as well. Like most slab serifs, it appears to have a strong and bold personality. However, it has a delicate, soft roundness to it that makes it appear very friendly as well.

How to use it?
This typeface has high readability, whether it is used for the title or the body text of the poster design. It is a great font for posters that have a more casual and light theme.
Coldiac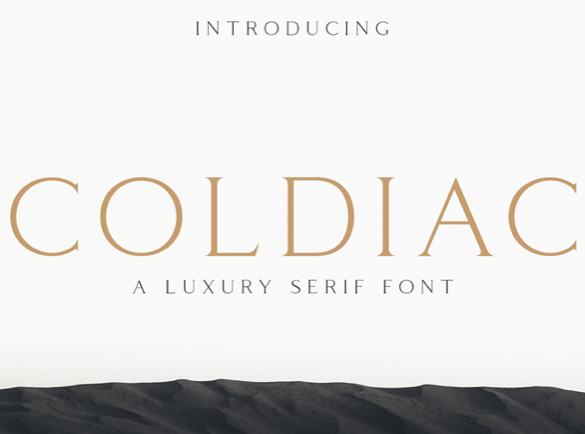 Classification: Serif

Use the serif font Coldiac to create a more luxurious and elegant feel. Its thin strokes and square-like shape creates a very fancy, but balanced mood.

How to use it?
It's very hard to use Coldiac for a large body of text due to it being in all caps. However, it's the best font for the title, header, subtitle, or short text on posters and other marketing materials.
Glamor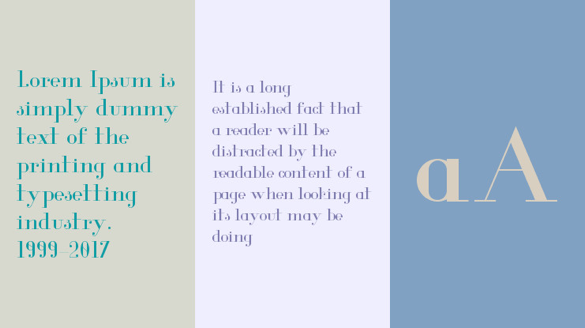 Classification: Serif

Create an elegant and stylish poster design using the font Glamor by Henrick Ronaldez. It's a modern-style typeface, similar to that of Didot and Bodoni. It features small ball terminals at the end of some of the letters. It's one of the things that contribute to the font's elegant and fancy character.

How to use it?
This is one of the best fonts for posters advertising and promoting fashion brands and events and other luxury items. However, its highly decorative appearance makes it unsuitable as body text.
Originals

Classification: Brush Font or Display Font

Instead of repeatedly trying to create your own typeface for your handmade-style design, use fonts like Originals. This decorative font already looks as if it was created using a brush pen or felt tip marker.

How to use it?
Its fun and quirky look makes it a cool font for posters, but also for other print materials such as signs, shirts, and photo cards. It's also good for print materials that cater to schools, children, and entertainment events.
Lavanderia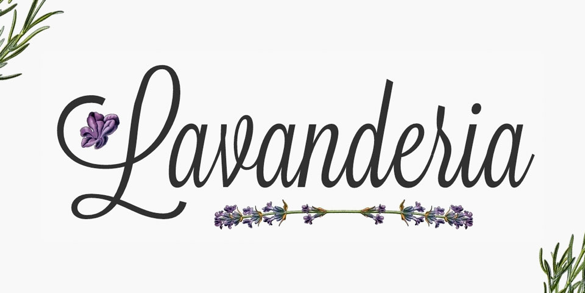 Classification: Script Font

If you're looking for a fancy but more commercial calligraphy-style font, try using Lavanderia by James T. Edmonson. This casual script was inspired by the lettering found on the Laundromat windows on San Francisco's Mission District. Edmonson wanted to create a font that was very elegant but strayed away from the "wedding" style of script.

How to use it?
Though Lavanderia can't be used as the font for a poster's body text, it's the best font for titles and headers. It is one of those fonts that balances between coziness and elegance, which makes it best for restaurants and hotels with similar vibes.

Each font has its own distinct personality no matter how similar some fonts seem. Use the most appropriate fonts that best fit the mood you were going for. Now, what are you waiting for? Create your own design using these cool fonts for posters!